Hola Hola! Mommy and Me Mexico!
Like most, I had a serious itch to travel this past winter. It was a long back and forth debate with myself whether this would be a momma and daughter trip or just mom.
I decided to take Jamila with me and enjoy an all inclusive, kid-friendly (but not overly kiddie) resort in Mexico. I am always drawn to Cancun for the white sand beaches and short ride from airport (very important with a 2 year old!). I asked around and made a final decision on Finest Playa Mujeres that was recommended from another mom on a Facebook UWS Mom page (my mom support system from any and everything).
Finest, part of the Excellence Group, is a 5 star resort, they do not charge for young children (they lost on us because Jamila ate more than me!), they have a toddler pool and kids pool/park with slides and tons of activities.
Jamila was too young to stay in the kids camp but this trip was about her and I having fun together and it was not an issue for me.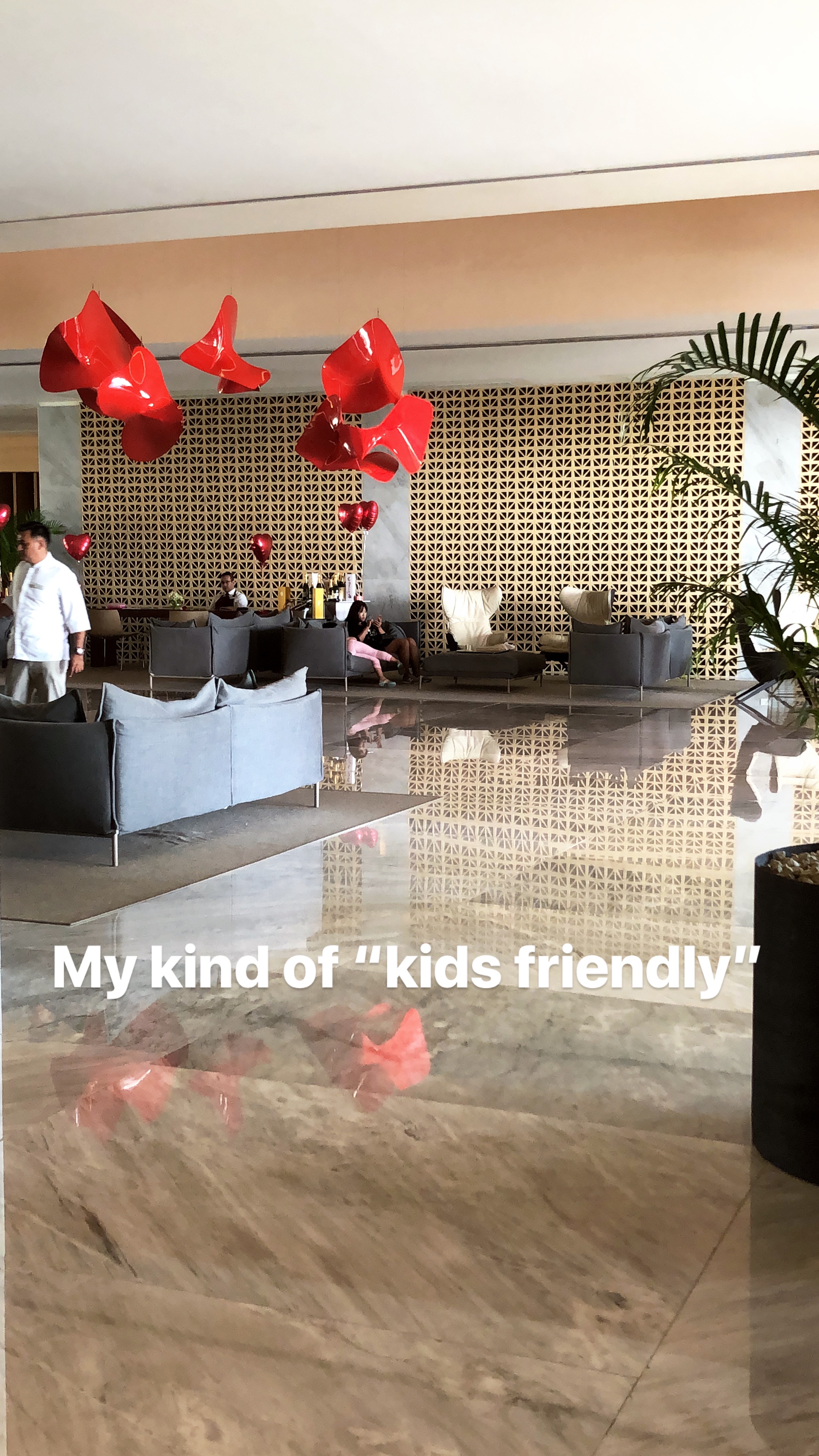 The Room:
We has a standard junior suite with a pool view. This property has many pools and many rooms with individual pools. Everything is very modern. I personally think the room was a bit too bare/modern, lacking some design, but the jacuzzi tub that was indoors but on the balcony blocked with glass was cool. Buuuuut, I think Jacuzzis are gross and don't use them! Being such a kid friendly hotel, I was shocked there was no stepping stool or height consideration for the bathroom counter. I didn't like the bed pillows. The shower was great. It was overall OK, no big deal.
Daytime:
We quickly got into a standard routine each day after breakfast. We would start at the toddler pool, which was pretty empty most of the time. Jamila didn't even need her puddle jumper life jacket in there. I oiled and sun-screened up and laid out while she went down the slide 9,628,243 times. After about an hour of that, she was ready to hit the "big" main pool so she could get a frozen drink from the swim-up bar. Yes, my 2 year old - God help me! They had a separate menu with kids frozen drinks named after characters, it was very cute. We stayed at the pool until about 5pm each day and then headed to the room for a shower and wardrobe change!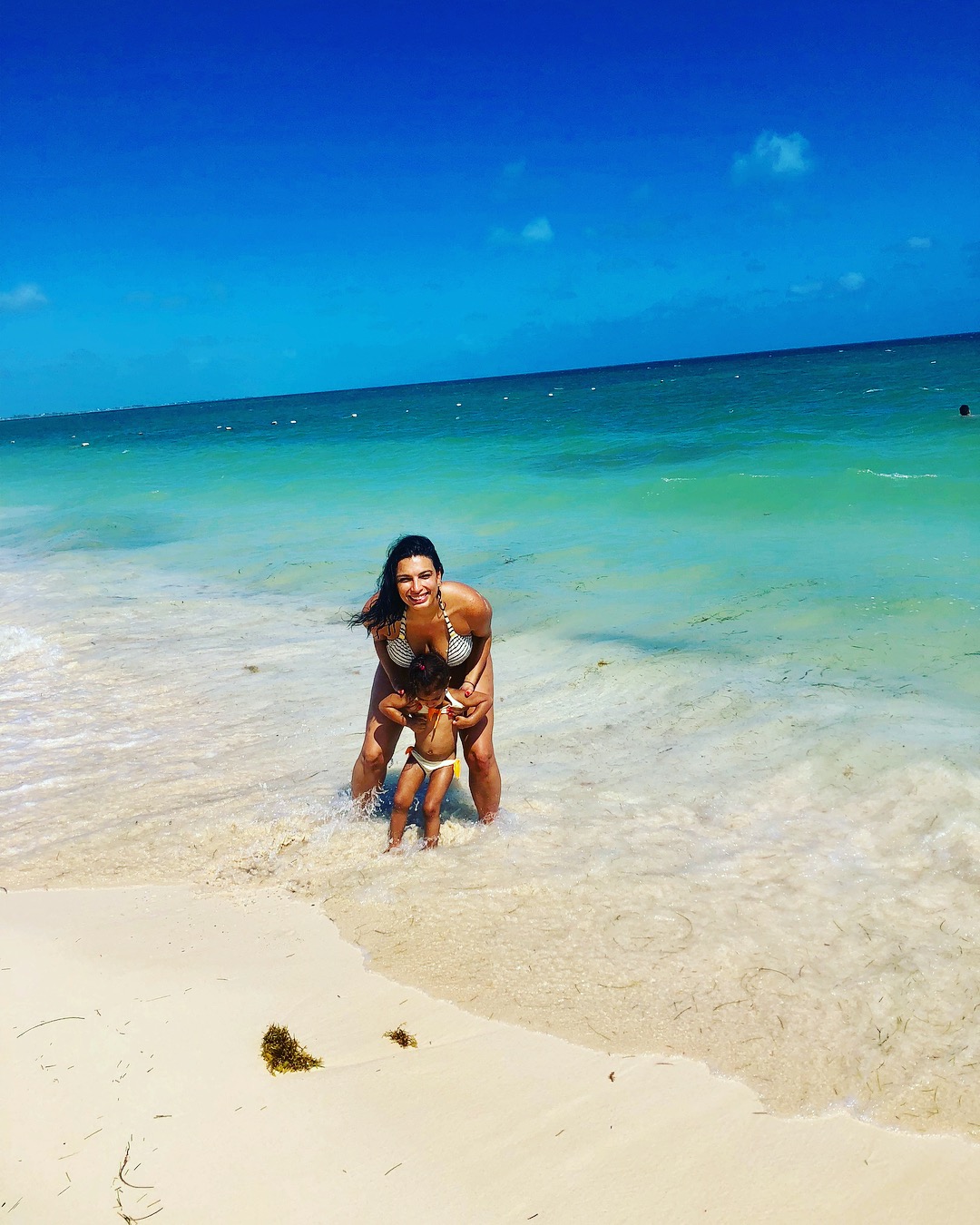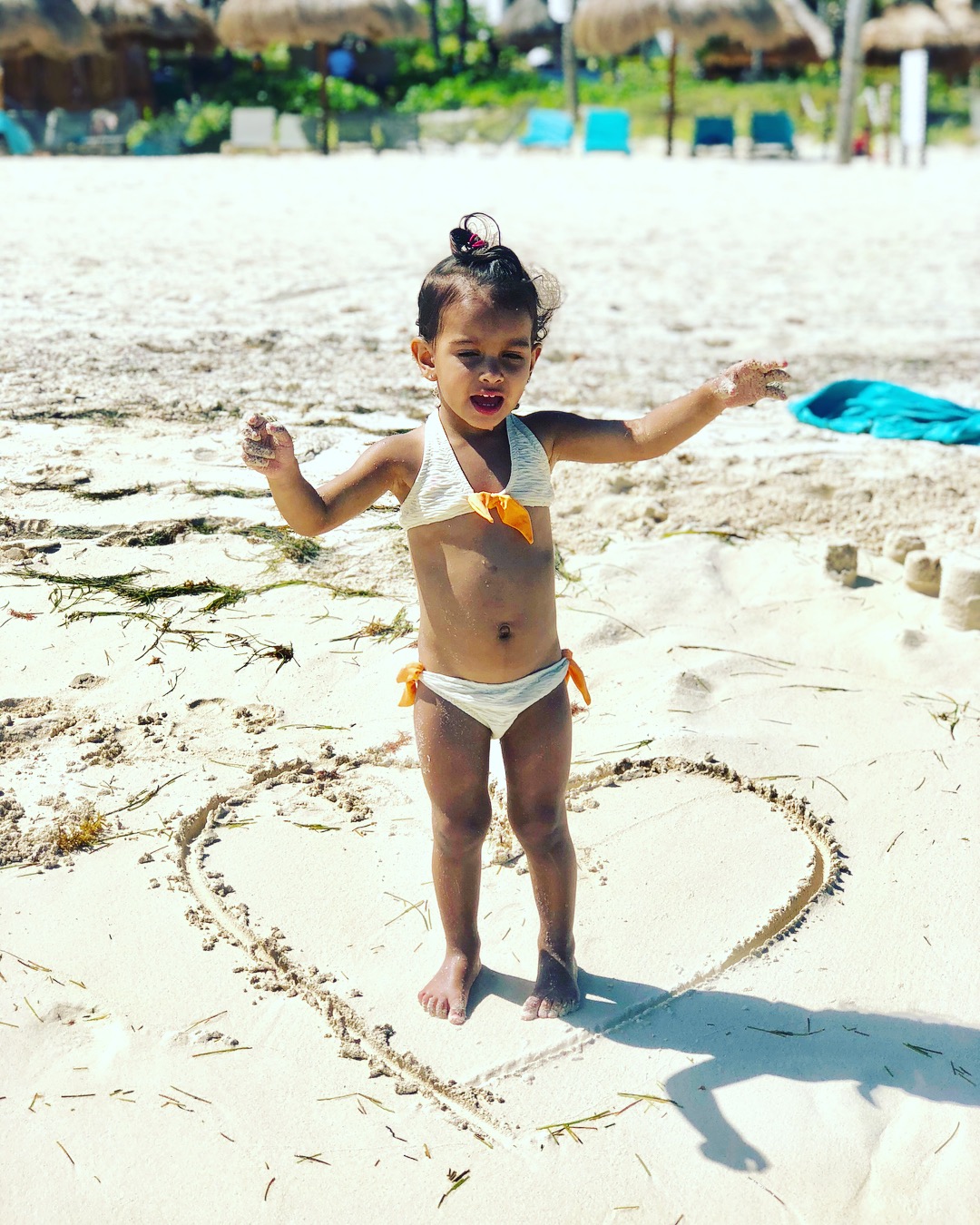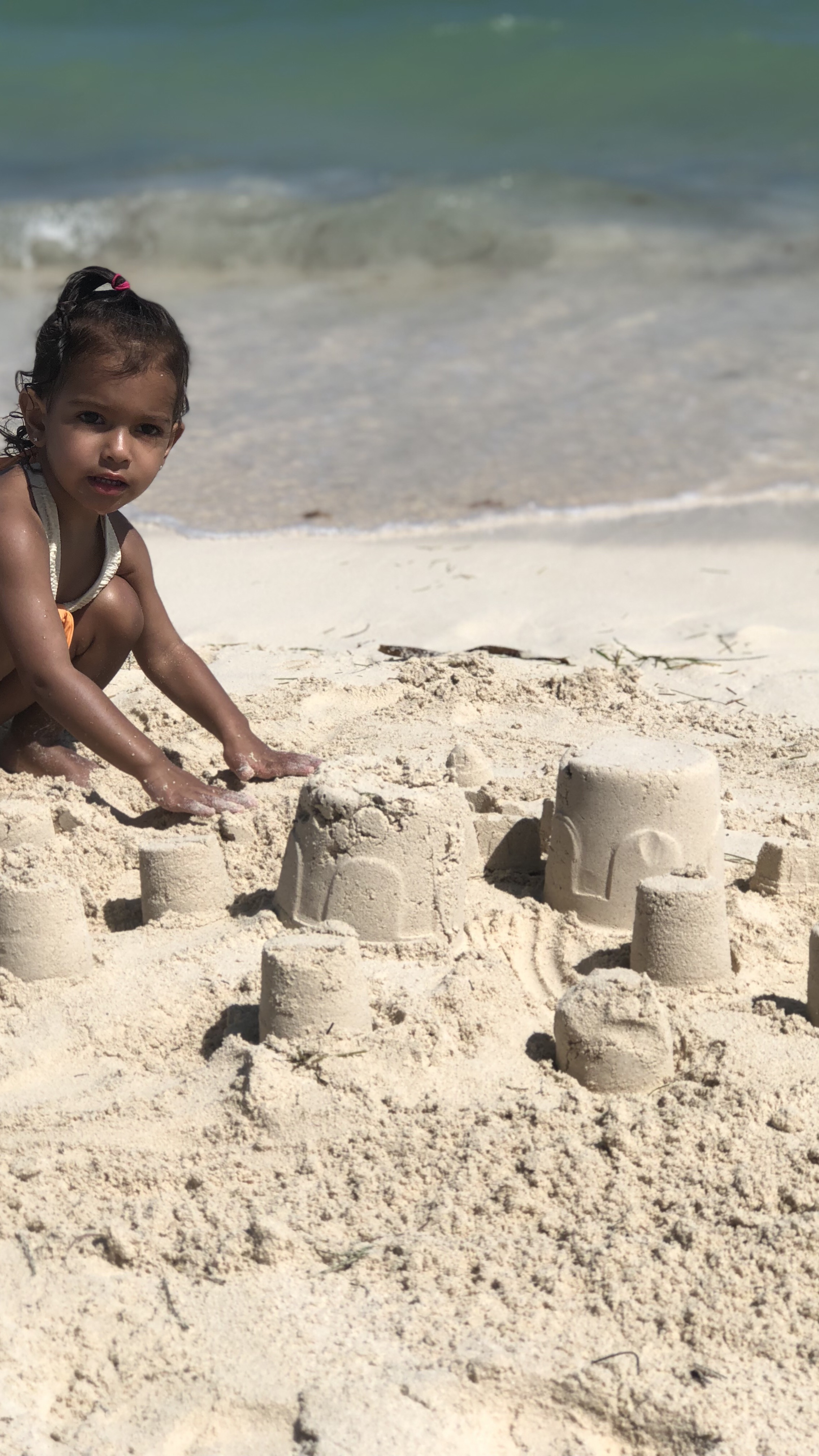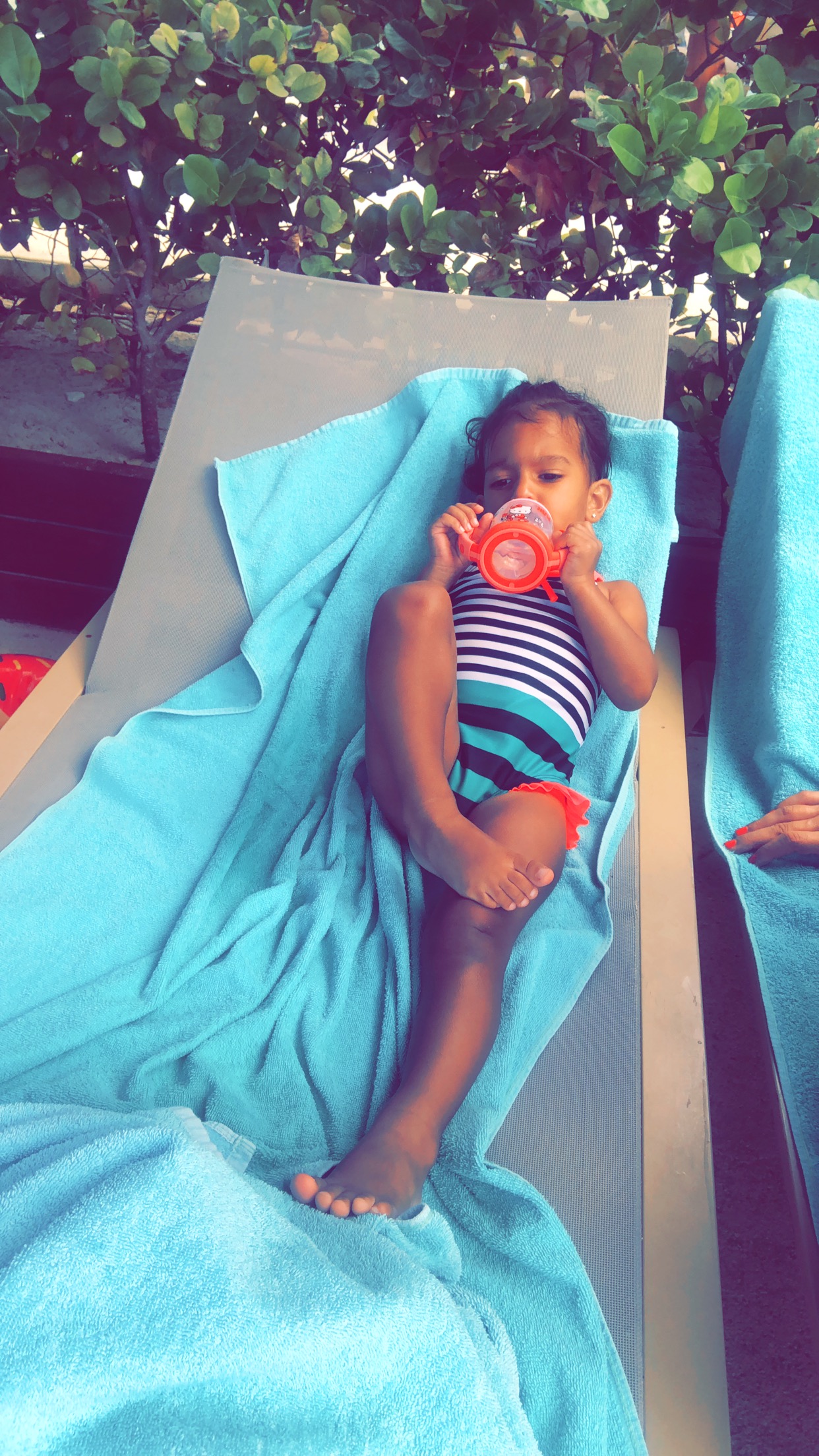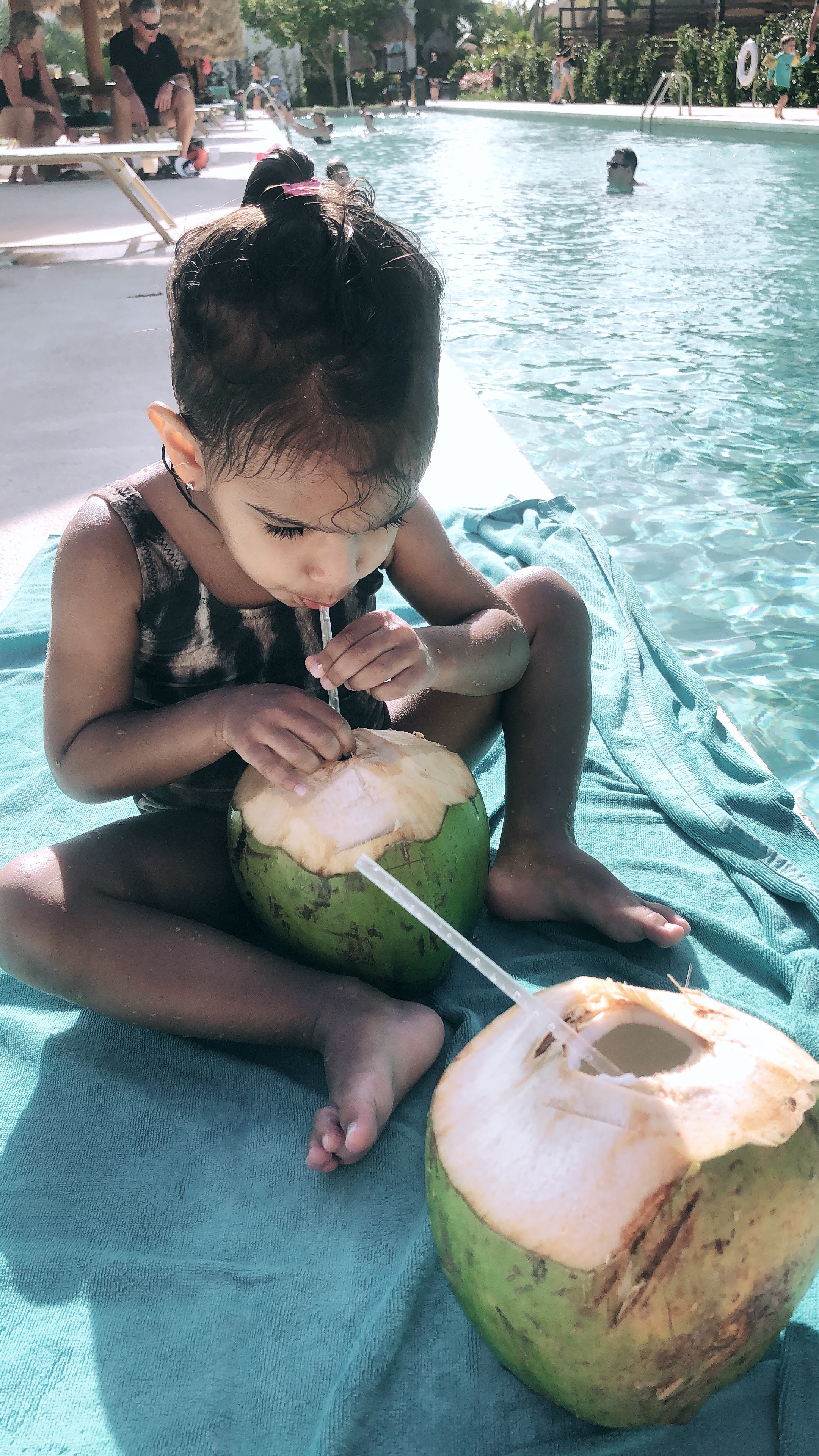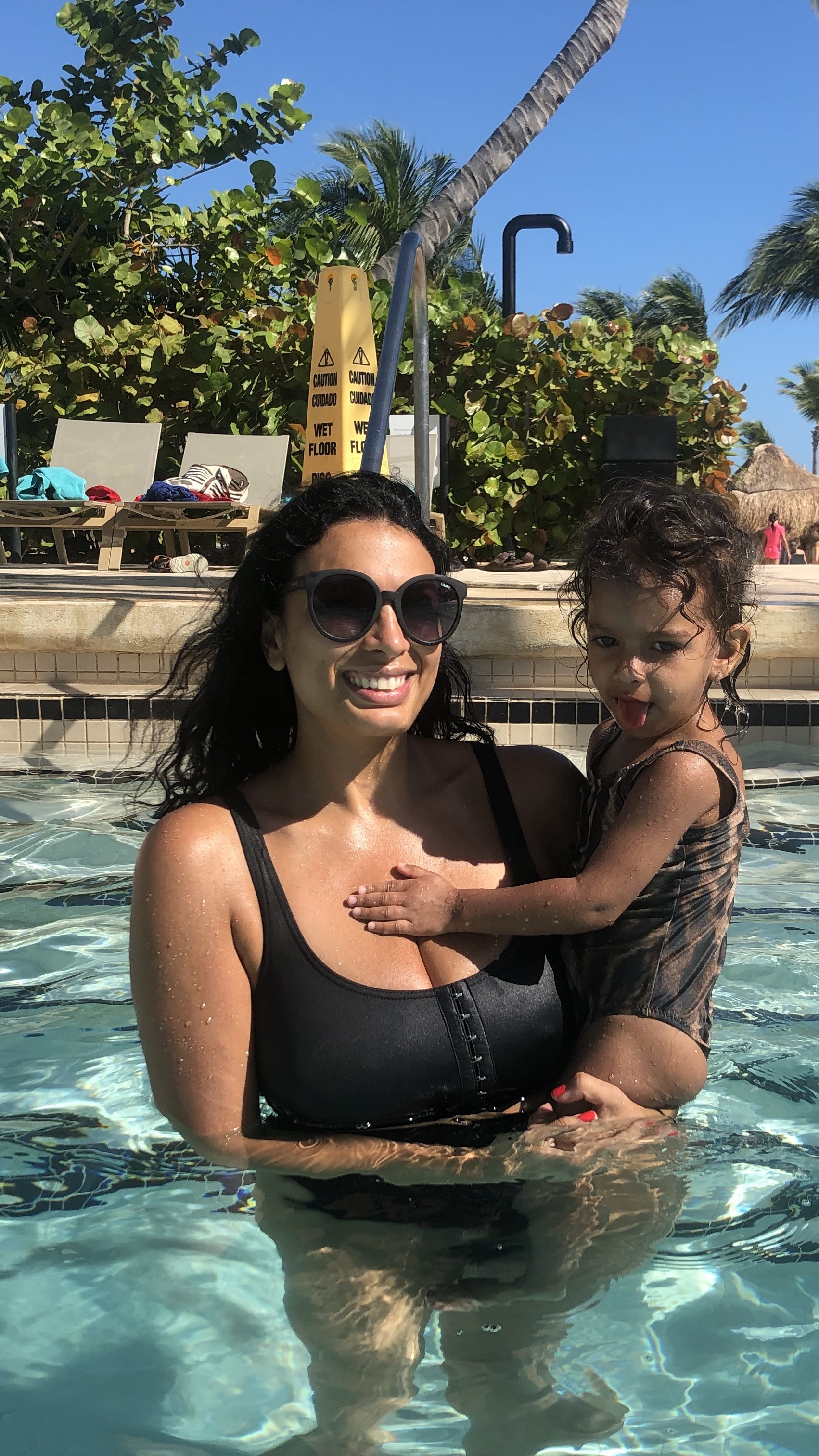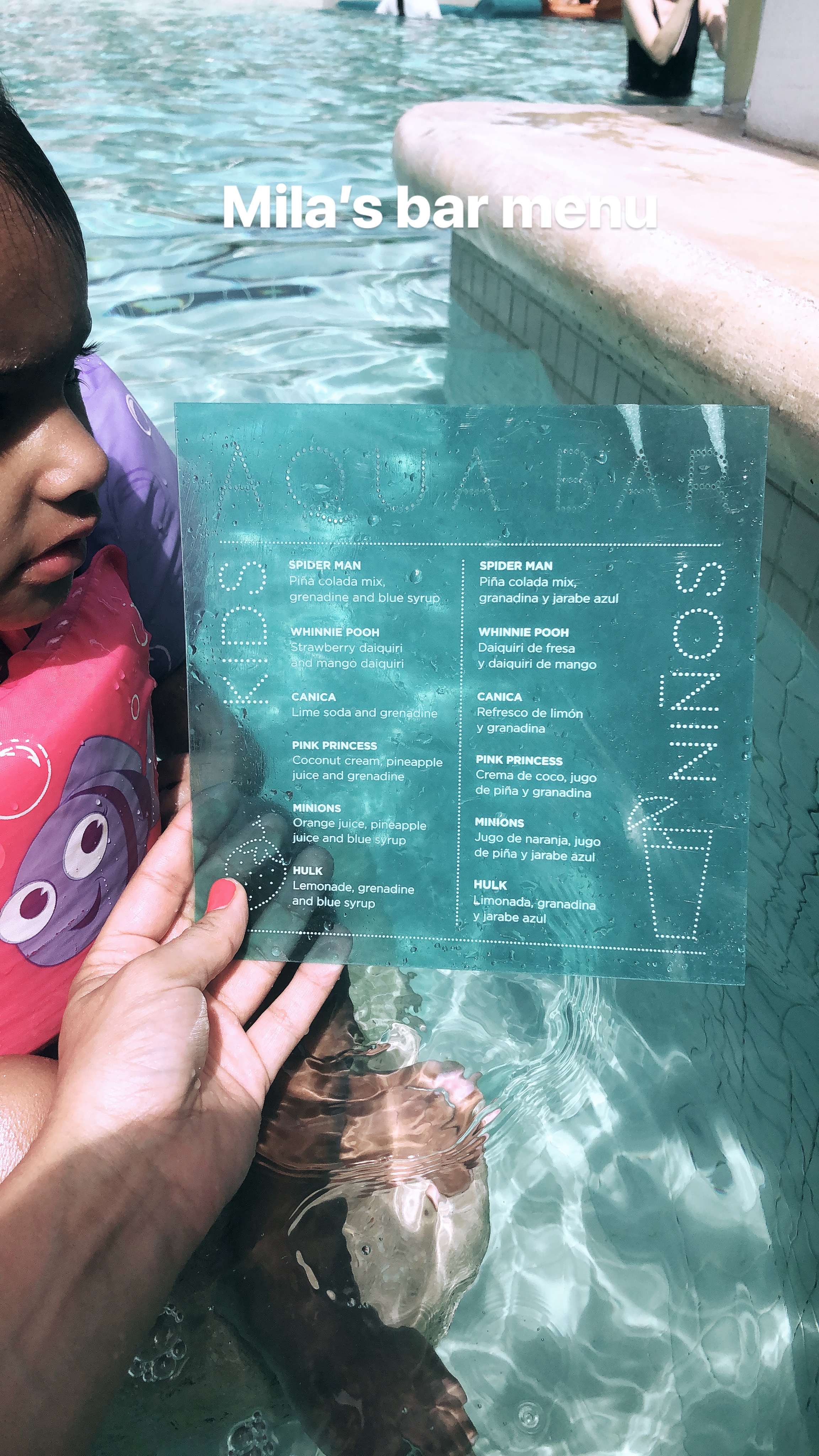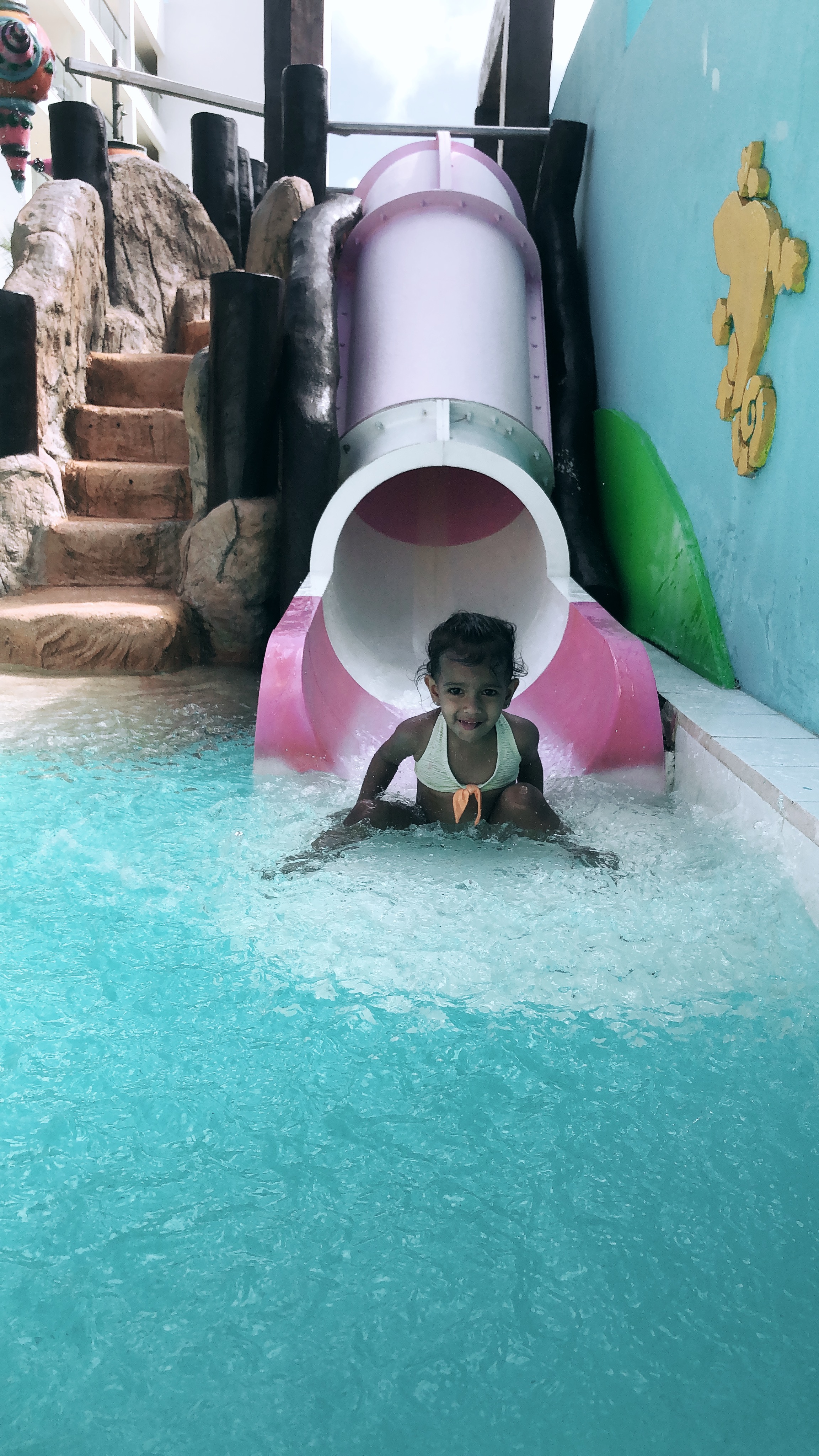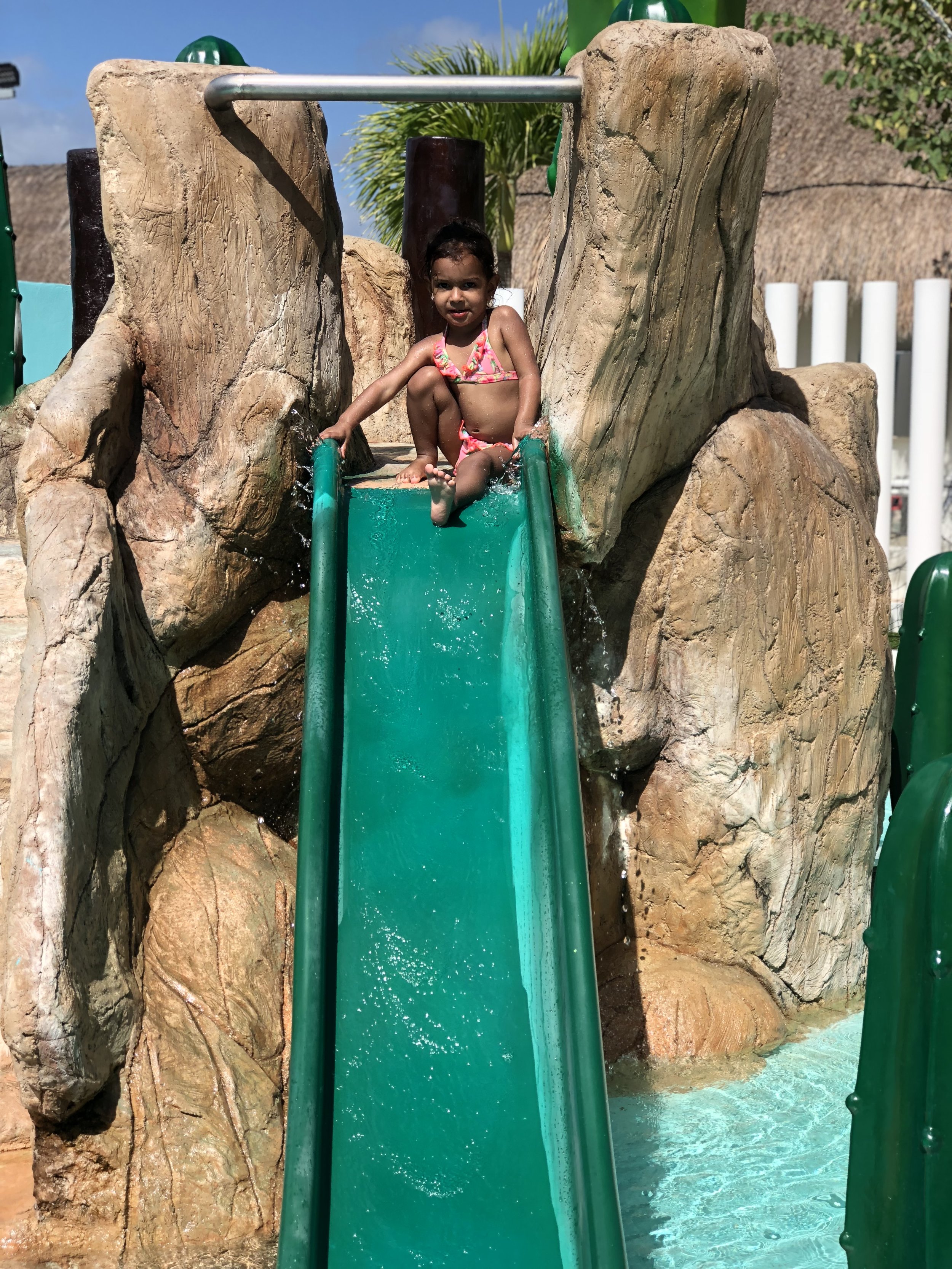 Evenings:
Jamila asked every day if we were going to see a "show", referring to all of the evening shows for kids and adults. We always tried to get to at least one and she loved them all! Her favorite was the character show that had Moana, Minnie, Mickey and Elsa! Dinners were easy and great. She's a good eater so I'm never worried about that. And if there wasn't anything I thought she wouldn't like on the menu, they would make something specifically for her. Her favorite meal was her flank steak at the steakhouse! We were in our room and in bed each night by 10/11.... I was impressed she could hang after a long day of sun and no naps.
The Food:
This was my first kid-friendly all inclusive in a LONG TIME. Since I was a kid myself actually! Since then, I've been going to the adult only all inclusives and was expecting the same impressive meals. The food here was not EXCELLENT but it wasn't TERRIBLE either. It was actually decent. The first night we tried the Japanese restaurant, did not wait for the hibachi, and that turned me off from the start. The best restaurant was the Mexican - OF COURSE RIGHT? And the second best was the steakhouse - flank steak & empanadas! The Italian restaurant was a disappointment. The breakfast buffet was great, SO MANY choices. The breakfast at the restaurant above the main pool was actually excellent, with the lovely morning view of the ocean BUT the service was terrible and everything took forever. We never needed a reservation, except for the Hibachi restaurant.
Cons:
Playa Mujeres area is a fairly new developed area. I've stayed several times in Cancun proper, in the city (still on the beach) but never in this area, I assumed it was the same. I was not prepared for MOSQUITO bites due to being near wooded areas. It was fine once I purchased OFF for the evenings. Bring some with you unless you want to pay $23USD for a can!
The bathrooms in the rooms should have some sort of step ladders for children if you are booking with children.
Adults cannot go on the children's slides. Let me tell you, some of those slides are pretty steep and fun, but I could not go on with Jamila and she was too little to handle alone. I didn't mind in the end because the bigger kids pool was colder than the toddler one!
Pros:
The kids area is amazing and the staff is great! Lots of activities and slides for the smallest to the oldest children!
There are tons of beach/sand toys at the hotel's hut on the beach. Don't waste your money in the lobby store!
The kids camp had activities all day, whether you stayed with your kid or dropped them off. There was even horseback riding! Jamila was shockingly scared of the horse, but I still got the pics!
Jamila had just turned 2 a few weeks before we took this trip, so instead of doing professional photos at home, I decided to spend the money on professional beach shots!